About Me
I am a wife and mother. At various times in my life I have been a seamstress, costume designer, actress, singer, songwriter, writer, and sales rep. My training and education has been music. In college I did a lot of theater, performing in musical comedy. I also spent a lot of time working on stage sets and costume crews, where I learned to sew, do simple carpentry, and make props. This helped me further develop my "arts and crafts" muscle.

Professionally I have performed musical comedy in dinner theaters, performed a solo nightclub act, designed and made costumes for plays, flamenco dresses, and bridal gowns, and taught voice lessons.

My daughter was a December baby and I always put the tree up by December 1. When she was very young we used to make Christmas ornaments together, out of paper, tinfoil, popsicle sticks, whatever was cheap or free. I started making Christmas ornaments and little dolls out of trash in 1991. I was inspired by the News of a garbage barge that traveled from New York out to the Midwest and back again. (It's still on Staten Island.) From that point on all my arts and have been based on recycling and reusing with a desire to help the Environment.

In addition to making EcoChristmas Critters, I have taught workshops on making Christmas ornaments from trash to kids (and parents) in upper Manhattan, and I have taught day long workshops on making art from trash to foster kids. Last, but not least, I developed a muti-media project with characters made out of trash called the Litter Critters.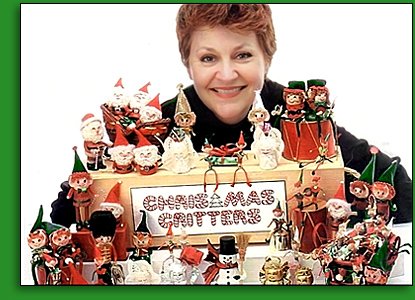 ---
How the EcoChristmas Critters got started:
It began in late November some years ago when my husband attended his college football reunion, staying in the home of his best friend. He wanted to take a unique gift, but Christmas was coming, and I was (once again) low on funds. Then my creative right brain kicked in.
I pulled some silver lame scraps from my fabric stash, cut out a five-pointed star, stuffed it with plastic dry-cleaning bags, and trimmed it with beads left from a costume project. It was dramatic and showy, and an instant hit. So, family and friends all got stars that year.
While working in a French restaurant, I began to play with different raw material from the trash bin: champagne corks and the wire basket part, paper clips, string, cardboard, plastic packaging, plastic bottles, junk jewelry etc.
I made angels out of cork, ribbon angels, and fairies and elves out of the wire basket, and suddenly I had a stable of creations. I made the first models in gold and silver, then added colors. Now I have many different styles of these Critters, each one-of-a-kind and handmade by me.
EcoChristmas Critters are great for giving to friends and family and for your own tree. It's my hope that when you buy an EcoChristmas Critter it will become a family heirloom and collectable, enjoyed at Christmas for years, and later passed on to another generation. And in this manner EcoChristmas Critters truly go from trash to treasure.